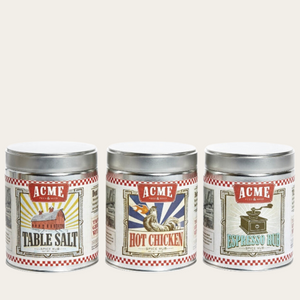 Spice up your life! The ACME Spice 3-pack includes our Hot Chicken spice, Espresso Rub, and Table Salt.
Acme Feed & Seed Hot Chicken Spice Rub
Hot fried chicken is a Nashville thing. For a uniquely Nashville flavor, coat, batter, and fry with Acme Feed & Seed's Hot Chicken Spice. It's sure to give any ol' chicken a zesty kick!
12 oz
Ingredients: Red Pepper, Salt, Black Pepper, Garlic, Paprika, Soybean Oil
Acme Feed & Seed Espresso Rub
This rich, smoky Espresso Rub locks in a roasted coffee flavor when used on beef and pork. Generously apply the rub to meat, then simply grill or roast away! Acme's Espresso Rub will be sure to 'wake up' those taste buds.
12 oz
Ingredients: Kosher salt, Brown Sugar, Dude Cocoa (alkalized), Spices, Espresso
Acme Feed & Seed Table Salt
Don't let the name fool you, this is definitely not your average table salt! Acme's Table Salt is an easy way to add flavor to any meal. Use it when cooking chicken, beef, pork, veggies, or simply sprinkle on your meal directly at the table.
12 oz
Ingredients: Salt, Garlic, Spices Parsley, Calcium Sterate, Extractives of Paprika