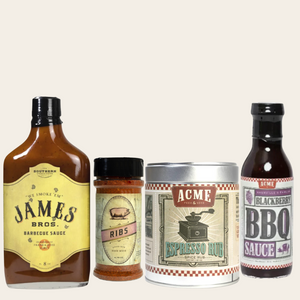 We've combined the best of ACME & The Southern in this BBQ Lover's Gift Set. Includes ACME's Blackberry BBQ Sauce & Espresso Rub, and The Southern's Rib Rub and James Bros. BBQ Sauce.
The Espresso Rub is a coffee-lover's dream, ideal for infusing a rich, smoky flavor into your favorite cuts of steak or transforming a simple salmon fillet into a gourmet delight.
As for our Table Salt, it's the unsung hero in your kitchen, elevating everyday dishes like pasta, where it enhances the pasta's taste, and popcorn, where a pinch creates the perfect movie-night snack. These seasonings are your kitchen companions, adding depth and dimension to your culinary creations.
Our James Bros. BBQ Sauce adds a fruity and slightly tart glaze that enhances the flavors of grilled meats. Try is as a marinade, glaze, or dipping sauce for appetizers like chicken tenders, spring rolls, or fried foods.